Exhibitor Information - 2022
The Dixie Center - 1835 Convention Center Drive - St. George, UT 84790
2022 Exhibitor Preregistraiton:
You have from now until Friday, March 12th @ 5 pm to reserve your
same booth spot for 2022.
After March 12th at 5 pm all unreserved spots will be released from your name and be available for selection by others or reassignment by RWAU. You will have no claim to your 2021 booth(s) in any way after 5 pm on March 12, 2021.
Please Note: You can only register for your SAME booth prior to March 12th at 5 pm. If you select a booth other than your own during this time you will be reassigned to your SAME BOOTH from this year. If your intent is to choose a new location, you will need to WAIT to register until Monday, March 15th.
Member Status: The registration system will ask you to choose your Membership Status first thing (Member or Nonmember) and the booths will be priced accordingly. We will be double checking all "Member" selections to make sure your company is a current member and adjust your booth price to reflect your current membership status if necessary. Not sure of your membership status? Check online here: www.rwau.net/members/
---
Submit to Present for 2022:
We are asking for presentation submissions for the 2022 RWAU ANNUAL CONFERENCE in St. George, Utah. The Conference sessions will be held at the Dixie Center on:
Tuesday, March 1, 2022 - In-Depth Training

(1 1/2 Hour Sessions)
Wednesday, March 2, 2022 - Regular Conference Sessions (1 Hour Sessions)
Thursday, March 3, 2022 - Regular Conference Sessions (1 Hour Sessions)
Friday, March 4, 2022 - Regular Conference Sessions

(1 Hour Sessions)
PLEASE NOTE: The presentation time you submit will be looked at by the committee, but if your presentation is selected you may be asked to present for an alternate length of time than the time preference submitted.
Also, please remember as you submit your presentations that these sessions should be devoid of advertisement and tailored to water, wastewater, small systems, office personnel or managerial subjects. Those in attendance will be:
Management Personnel
System Operators
Office Personnel
Mayors, Council, & Board Members
Engineers
---
Submission Deadline: July 1, 2021
SUBMIT TO PRESENT at 2022 AnNual Conference (St. George)
---
2021 Rural Water Annual Conference
Confernce i almost here! We look forward to seeing you soon!
Please see further info below.
---
March 1 - 5, 2021
The Dixie Center, St. George, Utah
2021 EXHIBITOR PREREGISTRATION
Not sure if you've already registered? Check the 2021 vendor registrations here:
View 2021 Exhibit Hall
Email Scam Alert:
It has come to our attention that there are numerous scam emails floating around claiming to sell the RWAU event and/or contact list. Please block and delete these emails - they are NOT legitimate. Some of them look very official, and some even have our logo on them. But ANY offer to sell the list ARE NOT FROM US. Please REPORT, BLOCK and MARK AS SPAM any such emails.
---
Conference Agenda: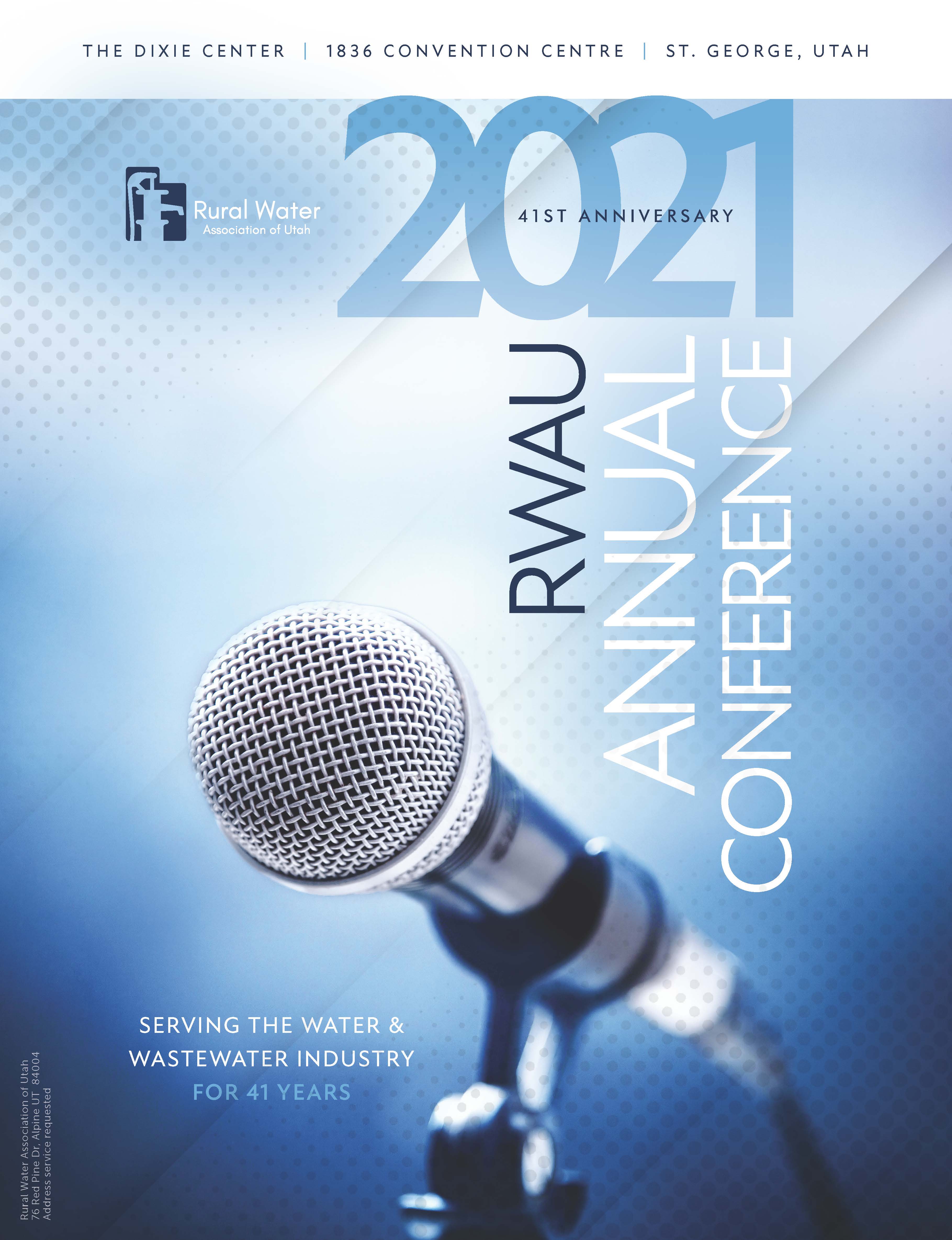 ---
Covid - 19 Safety Info at Annual Conference: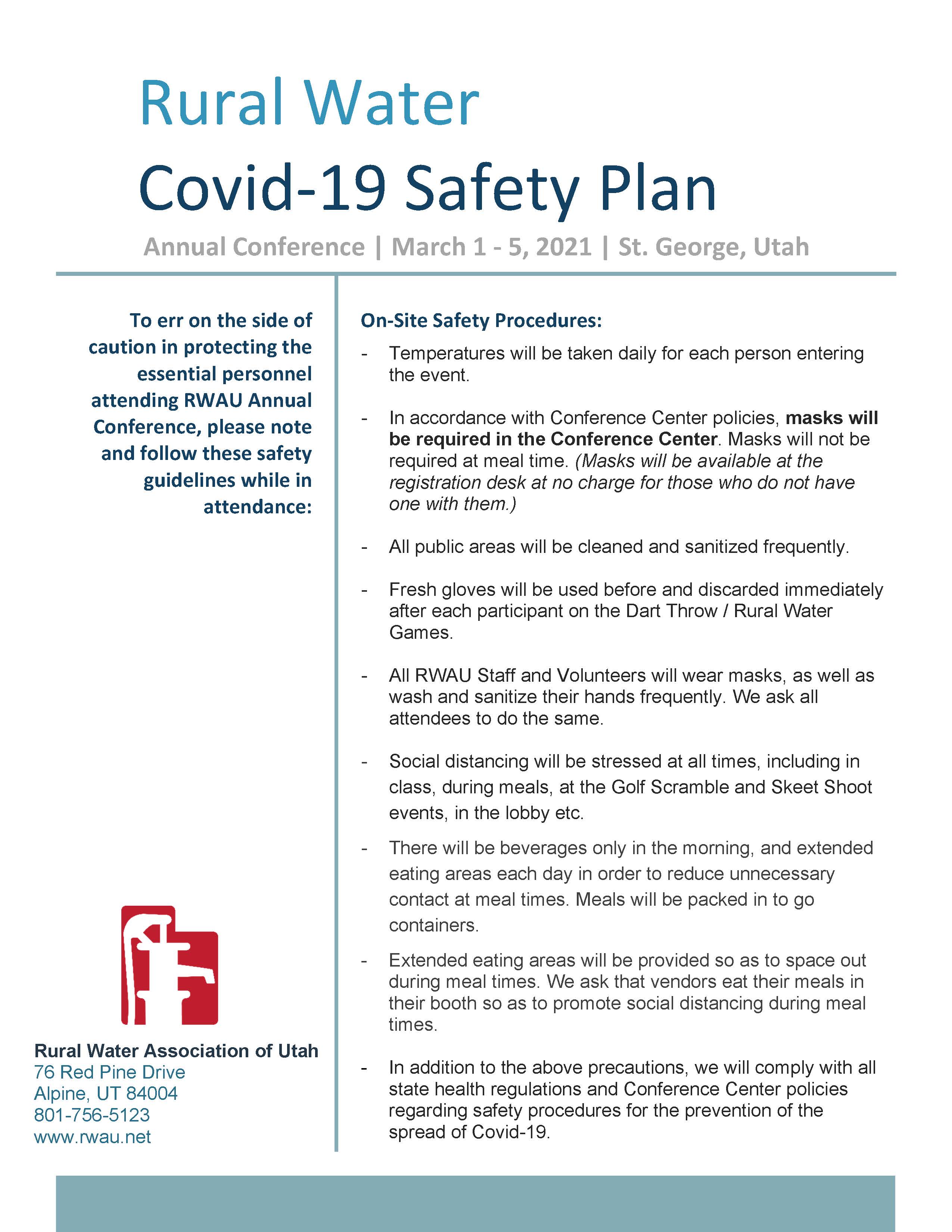 ---
BOOTH SET UP
LARGE INDOOR Equipment:
Monday, March 1: 3 – 5 pm
ALL OTHERS:
Tuesday, March 2: 7 am – 5 pm
Booths are 10 x 10 and the following is included for each booth
(1) 6-foot draped table
(2) Chairs
110 Power
Wi-Fi Internet
(2) Booth Attendees (Attendee names will be requested as the Conference nears, or you can enter them in your account at any time by accessing your booth profile using the Username and password created by you at: https://admin.map-dynamics.com/login.php) You can order additional needs and equipment (booth carpeting etc.) through the Dixie Center via the exhibit packet they will email you in January.
EXHIBIT HOURS
Wednesday, March 3: 7:30 - 4 pm
Thursday, March 4: 7:30 am - 1 pm
BOOTH TAKE-DOWN
INDOOR BOOTH PRICES:
(per booth, booth size 10 x 10)
OUTDOOR EXHIBIT SPACE:
(per piece of equipment - out front)
Paid outdoor space is located on the front sidewalks of the Dixie Center and is limited. There is a STRICT 10,000 lb weight limit for the front sidewalk space. PLEASE NOTE: You can park large equipment in the south parking lot on the black top at no charge with the purchase of an indoor booth, but no specific area will be roped off.
(You will select "Member" or "Nonmember" at registration. Membership selections will be verified and changed or updated if necessary by Rural Water Staff upon receipt of each registration. Check your company's membership status on our website using the link above if you are unsure.)
2021 Exhibit Info
Shipping Booths and Ordering Extras
To order extras for your booth (additional tables, chairs, 220 power etc.) you will use the Dixie Center On-line Decorating Link that will be emailed to exhibitors from teh Dixie Center in January.
Booths and/or equipment can be shipped directly to the Dixie Center at:

The Dixie Center
C/O Rural Water Conference
Vendor Name] [Booth Name / Number]
1835 Convention Center Drive
St. George, UT 84790

Should you need further help and/or instructions on shipping booths or ordering extra items contact Cindy Curtis at the Dixie Center (435-986-6625 or email CindyC@dixiecenter.com.)
---
Meals and Badges / Booth Personnel
Meals and name badges for two people per booth are included in your registration. You will need to sign up any additional people working in your booth before the Conference begins. An email will be sent to you as part of your exhibit packet which will ask you to sign up EVERYONE attending in your booth. If you already know the names of those who will be in your booth you can submit them now by signing in to your booth profile with MapDynamics HERE. This link also allows you to access your online booth profile and add more information about your company, change the admin or public contact, or add booth personnel. Use the credentials you created at registration, and log in to the MapDynamics Website to access or edit your info.
PLEASE NOTE: Every person attending in your booth needs to be registered. They will then get a name badge in your booth packet at conference. That name badge gives you access to the Exhibit Hall and the meals. There will be one, NON-REPLACEABLE lunch ticket provided per registered person per day. At lunch time, bring this ticket to the lunch line of your choice.
---
Golf Scramble
The 2021 Golf Scramble will be held on Tuesday, March 2, 2021. Shotgun start at 9 am at the Sunbrook Golf Course. There are sponsorships available to sponsor a hole. All sponsors will have names on tournament rules sheet as well as on signs at the golf course and the conference. The sponsorships options are as follows:
Includes 4 golfers & a $5,000 Hole‐In‐One sponsorship
Includes 4 golfers & a Hole sponsorship (Includes Sign)
Includes 2 Golfers & a Hole sponsorship (Includes Sign)
You will man a hole & visit with golfers doing your own giveaway
Golf Only (No Sponsorship) -- $100 per golfer
The scramble registration deadline is February 26, 2021, but don't wait until the last minute to register—the tournament fills up quickly! You can sign up to sponsor the tournament by contacting Vern Steel at either (801) 756-5123, or steel@rwau.net beginning in November.
---
Skeet Shoot
The Skeet Shoot will be held on TUESDAY, March 2nd at 3:30 pm. You will need to pre-register to participate in this activity. You can do so by using the registration form in the back of the agenda and sending it, along with the necessary payment, to the Rural Water office. You can also register online using the "A La Carte" registration option. The Skeet Shoot will take place at the Purgatory shooting range near the fairgrounds in Hurricane, Utah.
If you are interested in participating in or sponsoring this event, or would like more information please contact Rural Water staff member Phil Harold (phil.rwau@gmail.com).
---
Hotel Accommodations
All hotel reservations are handled directly with the hotel. There are many hotels to choose from in the St. George area. The hotels listed here have offered our attendees a discounted rate. Unless otherwise noted, when making your reservations with these hotels, mention you are with the Rural Water conference to get the specialty rate. And remember, hotels fill up quickly down there and most discounted rates expire a month before the Conference so make your reservations early!
PLEASE NOTE: Rural Water is not in any way a party to hotel rates or accommodations. We have simply asked these hotels to give our attendees a discounted rate and they have agreed to do so. All hotel arrangements, rates and policies are at the discretion of the hotels themselves, and reservations, rates and agreements are between the hotel and the guest staying with them.
HOTELS/ MOTELS
*Red Roof Inn (GREAT VALUE / LOWEST RATE)..... 435-688-8383
Best Western Coral Hills............................................. 435-673-4844
Clarion Suites.............................................................. 435-673-7000
Comfort Inn................................................................. 435-628-8544
Fairfield Inn by Marriott............................................. 435-673-6066
Hampton Inn............................................................... 435-652-1200
Hilton Garden Inn....................................................... 435-634-4100
Holiday Inn.................................................................. 435-673-6066
Howard Johnson Inn & Suites................................... 435-628-8000
Hyatt Place.................................................................. 435-656-8686
La Quinta..................................................................... 435-674-2664
Ramada by Wyndham St. George............................. 435-628-2828
St. George Inn and Suites.......................................... 435-673-6661
Tru by Hilton................................................................ 435-634-7768
Wingate by Wyndham................................................ 435-673-9608
---
2021 Call for Presentations
Presentation spots are currently full for the 2021 Annual Conference. However, you can submit your presentation here and we will keep your submission on file in the event of cancellation etc. Remember sessions should be devoid of advertisement and tailored to:
Water
Wastewater
Small Systems
Office Personnel
Engineering
Management
Those in attendance will be Management Personnel, System Operator, Office Personnel, Mayors, Council & Board Members, Engineers etc.
Detailed submission Instructions are as follows:
1. CREATE A USER PROFILE FOR THE SPEAKER
Click "LOGIN" on the navigation bar in the upper left corner of this screen
Click "NEW USER" below the login area to create a profile for the session speaker
Once the speaker info has been entered and a password has been chosen, click "Save" at the bottom of the page
2. Now click on "Submissions" in the upper left hand corner, then "Add New"
3. From there, enter the session info as requested. You can use the "Add New" link as many times as needed to submit multiple presentations under the same presenter
An application must be submitted before Wednesday, July 3, 2020 in order to be considered to present at the 2021 Annual Conference. (Submissions received after the deadline will be held on hand in case of cancellations. You will not be notified of your selection status until AFTER the selection process is fully complete in mid-September. You will be contacted at that point to alert you of your selection status either way.)
Thanks for submitting!
Conference App
Download the FREE Conference App today and get all the conference info and updates at your fingertips! Search your Play or App store for "RWAU" or the "Rural Water Association of Utah" to download the free app!