COVID-19 Vaccinations
Date posted
December 14, 2020
Email the Governors Office Email the Department of Environmental Quality
---
The long-awaited COVID-19 Vaccinations are beginning distribution through planned phases. Water and Wastewater utility employees are federally designated as essential workers, and therefore need to be included in Phase 1-B of the distribution plan. We are calling on utility employees to contact the Utah Department of Environmental Quality (Email) and the Governor's office (Email) to ensure they are included in the early distribution phase. It is critical for utilities to contact these offices now as prioritization decisions are being made.
Water and Wastewater utility personnel have unique expertise acquired through licenses and certifications. This makes finding replacements for skilled personnel who become ill, extremely difficult. It is essential to mitigate COVID-19 risks through all possible means. We have worked diligently with state and federal agencies to come up with solutions that will keep our essential workers safe. This included the distribution of EPA face masks and now through promotion of the vaccine.
We would like to thank the water and wastewater utility workers across the state for their commitment to public health. These laborers haven't ceased to provide exceptional service, even through the most trying times this year.
Read the Water Sector Coordinating Council Letter
Message from the Utah Department of Public Safety
Greetings,
As part of the state's outreach about the vaccine, we have created a vaccine newsletter. Below, I've included the first email in the series, but if you would like to get updates on your own (or your staff, residents or leadership), please sign up at coronavirus.utah.gov/vaccine. Just scroll halfway down the page for the signup form. Just a name and email address will get you enrolled.
Best regards,
Joe Dougherty
State of Utah COVID-19 Response
Utah Department of Public Safety
---

Last month, the state of Utah published the Utah COVID-19 Vaccination Plan. Today, we announced some updates to that timeline and who will be receiving the first doses of the vaccine.
We expect 23,400 doses to begin shipping to Utah within 24 hours of the first FDA approval.
As planned, all doses in the first shipment will be sent directly to hospitals in the state that will then administer the vaccine to their employees.
Over the final weeks of December we anticipate an additional 131,000 doses.
It's possible that by the end of the month, after our initial focus on hospital health workers, long-term care facility residents and staff, non-hospital health care workers, and educators and staff of our K-12 schools could receive the vaccine.
Status of COVID-19 vaccine approval
---
The Utah Department of Health ordered the first doses of a COVID-19 vaccine from Pfizer/BioNTech last week. The first doses are intended for healthcare workers at hospitals that provide care to the most COVID-19 patients.

The U.S. Food and Drug Administration (FDA) must review the findings from the clinical trials and make sure the benefits of being vaccinated outweigh the risks. Only when the science is clear that the vaccine is safe will the FDA give approval or Emergency Use Authorization for the vaccine to be distributed. The Centers for Disease Control's (CDC) Advisory Committee on Immunization Practices (ACIP) has also been reviewing Pfizer's vaccine trial data. ACIP will advise the FDA later this week on whether the vaccine should be distributed. The FDA will then make the final decision on approval.

The FDA is also reviewing Moderna's COVID-19 vaccine. ACIP is expected to weigh in on Moderna's vaccine later this month.
---
New quarantine guidelines
---
In light of new recommendations from CDC, the Utah Department of Health updated its quarantine guidelines. Quarantine is for people who have been exposed to COVID-19.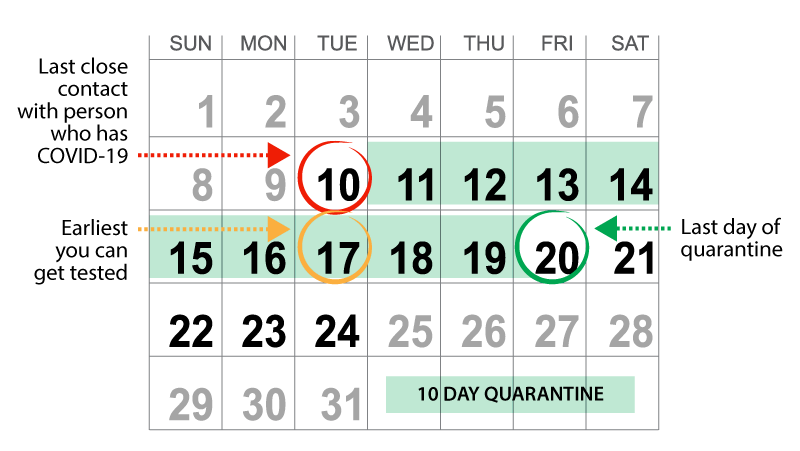 You may now end quarantine earlier than 14 days under the following conditions. You may end quarantine:
On day 10 without testing. If you don't have symptoms of COVID-19, you can end quarantine 10 days after the last time you had close contact with the person who tested positive.
On day 7 with a negative test result. You can get tested on day 7. You can end quarantine if your test is negative and you do not have any symptoms of COVID-19. You must wait at least 7 days after your exposure to be tested. The test can be a PCR or rapid antigen test. You must continue to quarantine until you get your test results back.
If you live with someone who has tested positive for COVID-19, you must quarantine for 10 days, even if you test negative. Long-term care facilities will continue to follow a 14-day quarantine for employees and residents because the chance for spread and severe illness is very high.
Make sure you understand the guidelines for quarantine if you or someone you live with tests positive, or is exposed to COVID-19.
Quarantine Information
---
Copyright © 2020 State of Utah Covid-19 Response, All rights reserved.

Our mailing address is:
State of Utah Covid-19 Response
288 N 1460 W
Salt Lake City, UT 84116-3231
---
The "Message from the Utah Department of Public Safety" was shared with us by Joe Dougherty from the Utah Department of Public Safety.